Dolce & Gabbana (D&G) Watches
D&G watches bring the style and substance of the Dolce and Gabana brand to your wrist. As a top name in luxury, D&G watches are high fashion timepieces that set the trend. For the active individual as well as the sophisticate in search of luxury, these watches combine innovative design and style with quality craftsmanship and durability.
The D&G Festival is an exquisite watch for the elegant woman. The stainless steel rectangular case and linked bracelet is set with clear crystals to give sparkle to this envy inspiring timepiece. The face houses an analogue dial that is set with even more crystals to ensure it does not go unnoticed. Water resistant to thirty metres and housing a quality Japanese movement, the festival is sure to please the most discerning lady. Refined and classical, the Festival is a stylish and timeless piece.
The D&G Mix for ladies features cutting edge style with the increased functionality of dual time. The stainless steel bracelet features high style cut outs and two round analogue dials. Each dial features a single crystal, one at the twelve o'clock position and the other at the six o'clock position. Mineral glass and thirty metre water resistance ensure this is a durable timepiece. Smooth lines and edgy designs make this a watch that sets trends in its simplicity.
D&G watches combine trendsetting fashion with the high style one expects from Dolce and Gabana. Elegance, quality, and modern, every D&G watch is a combination of the three. For those whose tastes strive for the top, D&G watches deliver.



Top Ladies Dolce & Gabbana (D&G) Watches
Top Mens Dolce & Gabbana (D&G) Watches
---
Dolce & Gabbana (D&G) Watch Reviews
Looking to buy a Dolce & Gabbana (D&G) watch? Check out our reviews of the latest Dolce & Gabbana (D&G) watches available in the market today.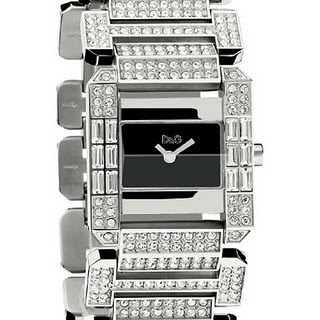 D&G or Dolce & Gabbana watches originate from one of the most modern young start-ups in the world of fashion,  emerging from a two-man partnership into global design firm with business interests in all aspects of wear.
D&G popularity is unstoppable and it is considered as a must have apparel for both men and women at any age. The watches designed by D&G are both a perfect wear for evening out or even in ordinary working days. Apart from the classy looks it gives when you wear it, it also conveys something that is beyond imagination.
In the world of fashion, D&G is not left out as it continue to expand and creates high quality, durable and one-of-a-kind designs that people always admire. Every watches designed by D&G can be a perfect match to any outfit you have. This is due to the fact that designers of the said company …
Top Ladies Dolce & Gabbana (D&G) Watches
Top Mens Dolce & Gabbana (D&G) Watches
---