Lacoste Watches
Since its inception in 1933, fashion powerhouse LaCoste has been synonymous with an upscale, athletic lifestyle. Lacoste watches are no different.
When it introduced its line of distinctive timepieces in 1994, the company combined its athletic spirit with a refined, luxurious style that has made LaCoste watches famous in the world of celebrity fashion.
For men, LaCoste's Mainsail Automatic, with its wide, open face, and the Seaport, with its bold, squared-off silhouette, are the perfect options for a day at the office or an evening around town. For more formal occasions, opt for the Clubhouse with its black leather band, or the stainless steel Inspiration, both classic choices.
Featuring models that will take you from the racquet court to the board room to a formal after-work dinner engagement, every watch offers the level of quality and unique style that's made this brand a world leader.
LaCoste's sporty Advantage watches offer athletes the option of a flexible, perforated rubber strap, guaranteeing comfort no matter what sport you're engaged in.
In women's watches, LaCoste offers a wider range of colors and silhouettes, including the slim Inspiration in white, caramel, yellow, and black. The Inspiration also offers two options with interchangeable bands. Or go geometric bold, with the Leather Links design in black or white.
LaCoste's colorful square Swing style is perfect for the office or the gym, but if you're a real sports enthusiast, take a look at LaCoste's Mainsail or Tiebreak watches with the distinctive cloth bands that breathe and move when you move. LaCoste has the popular "boyfriend" style covered, too, with its chunky stainless steel Advantage style for women.



Top Ladies Lacoste Watches
---
Lacoste Watch Reviews
Looking to buy a Lacoste watch? Check out our reviews of the latest Lacoste watches available in the market today.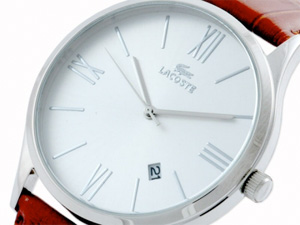 Lacoste watches belong to the worlds most popular and must have stuffs. It comes with different designs, sizes, colors and styles which perfectly match to any outfit. Wearing a genuine lacoste watch is really something that you could be totally proud of! It's not just wearing something expensive; it's a pride, honor, sophistication and most of all it's a strong investment!
Lacoste watches are definitely solid, fashionable, dependable, real popular and they are determined by it's one of a kind logo – the alligator!
When did Lacoste started off?
It was during the time when Jean Rene Lacoste (1904-1996) designed a novel new tennis shirt which turned out to be the foundation of the worlds famous fashion empire. Fashion historian believed that the crocodile symbol which is primarily addressed as alligator was the very first illustration of a designer logo which appears in the garment and now engraved in every …
Top Ladies Lacoste Watches
---