Mens Watches
When choosing a man's watch for yourself or another the most important aspect to keep in mind is what type of watch to select. All timepieces will display the time, but there are many styles and types to choose from as well as colours.
Top Mens Watches - Our recommended watches for May
What to know when buying a man's watch
The first thing to decide is whether you want a mechanical watch or an automatic watch. The mechanical watch is spring driven and has to be manually wound about every 24 hours in order to keep running. This are very popular in pocket watches and many other styles. The automatic watch is self winding and the motion of the wearer's arm will wind the mainspring in order for it to operate.
The sports type of men's watches are very popular with the outgoing man who loves playing sports or water sports. These watches normally have a rubber band that will not rust when it gets wet and are water resistant to at least 100 meters. Sports watches may be worn when playing soccer, rugby and other strenuous sports that make men sweat while playing. These may also be worn for surfing, boating, water skiing and snorkeling.
Men's watches also are available in the pilot or aviator style. These watches keep time in 2 or more time zones and are worn by pilots or businessmen who travel extensively in their work. Pilot watches also have the highest quality quartz movement which ensures accuracy.
Luxury watches are worn by men when attending formal parties and high end business meetings. These have many styles and most include gold bands and diamonds encrusted on the face.
There are also the novelty type men's watches for the playful type man or the man who is visually challenged. Some of these include the talking watch which is analog and speaks the time out loud at the touch of a button. The clear face makes the numbers easier to read and there are several alarm choices included like announcing the time on the hour.
Older gentlemen enjoy the vibrating alarm watches which help to remind them to take medication at certain times of the day without anyone realizing that they have to be reminded. These are a wonderful gift for an older man because they are so useful.
Men's watches come in a variety of colors as white gold, yellow gold and stainless steel for durability. These usually have a matching band of the same material, although leather and rubber bands are popular too.
There are so many choices that any man may choose a watch to suit his particular needs or style, or a person may choose one for the perfect gift to give to another.



---
Mens Watches Reviews
Check out our reviews of the latest gents watches hand picked by our expert editorial team.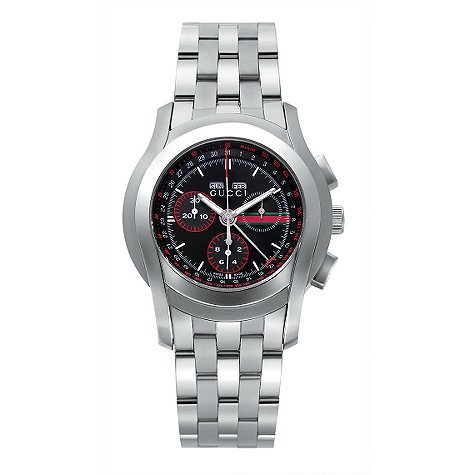 Gucci G Class men's stainless steel chronograph watch
Gucci is an Italian fashion house known for the quality and cutting edge design of its clothing and accessories. It's a name you can trust for quality products and you can trust that Gucci G Class men's stainless steel chronograph watch is …
[Continue reading: Gucci G Class men's stainless steel chronograph watch]