Christopher Ward Watches
Christopher Ward Watches is a brand of timepieces that's surprisingly affordable for the quality of watch. That's because the company makes a conscious effort to make luxury watches that are within the price reach of everyone, unlike many of its luxury watch competitors. Christopher Ward is able to do this because it sells its watches directly with no middlemen or retailers other than themselves. This means that it don't have the same high margin requirements as other companies and is able to pass these benefits to you, the customer, in the form of more affordable prices.
Christopher Ward's first two watch brands included: the Malvern Automatic and the Malvern Chronograph. The Automatic is a dress watch with the ability to tell time accurately. It's simple and elegant. The Chronograph was inspired by the British Aston Martin sports car and has more sophisticated styling.
The company puts a lot of effort into designing beautiful timepieces. Each watch perfectly blends function and form for a price many people like. Christopher Ward watches are increasing to such an extent that the word of this brand has spread to 40 countries. The company has appeared in online forums all over the world.
Christopher Ward brand values include integrity, openness, value and strength.



Top Ladies Christopher Ward Watches
Top Mens Christopher Ward Watches
---
Christopher Ward Watch Reviews
Looking to buy a Christopher Ward watch? Check out our reviews of the latest Christopher Ward watches available in the market today.
The Divine Carre S3SWS by Christopher Ward
Who doesn't love no quibble returns? This is one of the features offered by all brands of Christopher Ward watches, but few people actually take advantage of their 60-day money-back guarantee. That's because Christopher Ward luxury watches, like the Divine Carre S3SWS is so superbly made and beautifully designed. The silver strap is made out of 316L stainless steel and features individually linked bracelet that will move comfortable with you as you move. The shiny chrome finish steel case is hand polished with care. The Divine Carre S3SWS features convex sapphire crystal and an anti-reflective coating. There's a screw down case, Swiss gold gilt movement, practical deployment clasp and a unique engraved serial number. There's agate stone in the crown. The Roman numerals on this watch add to its classy appear. These numbers are strategically placed at the 12, 3, 6 and 9 …
The Divine Carre – leather S3SWT by Christopher Ward
With a strap that's made out of sturdy brown croc leather and a solid square face with a mother of pearl dial and hand polished chrome steel case, the Divine Carre watch from Christopher Ward is practical yet incredibly stylish. The watch has convex sapphire crystal, anti-reflective coating and a four-jewel gold gilt Swiss quartz movement. It also comes with a unique engraved serial number and screw down case. The crown is made using agate stone. And like all Christopher Ward watches, the Divine Carre comes with a 60-day money-back guarantee and a five-year warranty to provide you with the security of risk-free buying. The Divine Carre is also water resistant to 30 meters so it's great for the active woman who doesn't want to worry that a little water is going to damage her luxury watch. Christopher Ward Watches of …
The D8 Encore – 0.85 carat D8SWS by Christopher Ward
Christopher Ward watches provide you peace of mind with a 60-day money-back guarantee and a five-year warranty on the watch itself. This is a great feature to have with any watch, and the lady in your life (be it yourself or a significant other) will appreciate this feature as a sign of a quality watch. Christopher Ward watches are all quality made and sold at a much more affordable price than other luxury watch brands. That's because Christopher Ward takes a smaller percentage of the profits in order to transfer the savings to you. The D8 Encore white-faced ladies diamond watch is also an ethically responsible piece of jewellery. Each of the 84 full cut diamonds are certified conflict free. With the D8 you get a full 0.85 carats of quality diamond with very few inclusions. The classification for the …
Christopher Ward C4 Peregrine – corax edition C4IPK
Sleek and stylish are words that come to mind at first glance of the Christopher Ward C4 Peregrine Corax edition watch. It looks great with its sleek black colour, engraved deployment bracelet system, camberd sapphire crystal glass, nine-jewel Swiss quartz movment and super-Luminova indexes and hands. The watch bracelet is a substantial size at 42 mm and great for any man's wrist. The bracelet is and case are made out of super modern ionic plated 316L stainless steel. The C4 Peregrine Corax Edition watch from Christopher Ward has a 12-hour alarm, 60 ratchet uni-directional bezel and split-seconds/stopwatch/tachymeter perfect for accurate timing of any event. There's a 60-day trial and a five-year movement guarantee. The watch is resistant to water up t 50 meters and it also has an engraved serial number that proves your watch is one-of-a-kind and not like the other …
The D9 Encore – 0.92 carat D9SWS by Christopher Ward
This stunning Christopher Ward women's watch is something any woman would appreciate wearing. It's absolutely beautiful with its hand polished chrome finished stainless steel bracelet and casing. The diamonds are of very high quality with very few inclusions (VVS1). You get an impressive 64 of them with the D9 Encore for a total of 0.92 carats. Perhaps best of all, these diamonds are certified conflict-free so you don't need to worry that anyone lost their lives, lost a loved one or was abused in the collection and production of these diamonds. Should the unexpected happen and you're dissatisfied with this incredible watch, you have the security of a 60-day money back guarantee. Combined with the 60-month warranty, this D9 Encore by Christopher Ward is a risk-free selection as far as watch choices are concerned. Other features that add to the …
The C1 Russell – leather C1SKK by Christopher Ward
The dark face and strap of this watch paired with the silver face, hands and numbers of the Christopher Ward C1 Russell watch make it a very striking accessory. This Swiss movement watch was inspired by 19th century Royal Watchmaker Thomas Russell. The watch features a genuine Italian leather strap that soft and supple and supremely comfortable to wear. The case and deployment clasp are made out of hand polished 316 L stainless steal and the metal dial is two-pieces and precision etched. The battery life is an impressive 30 months and the C1 Russell is water resistant to 50 meters making it a great watch for the stylish swimmer who's not willing to compromise his style just because he's in the water. Christopher Ward's men's C1 Russel has a ten-jewel Swiss quartz movement, cambered sapphire crystal glass and screw-locked crwon. …
The Divine Ronde R3GWG by Christopher Ward
The round watch face of the Divine Ronde from Christopher Ward is traditional and looks good on any woman. It has a mother of pearl dial that shimmers discreetly under certain types of light. Roman Numerals add a touch of class to the look of the watch that plain numbers wouldn't. The case and bracelet are made out of 10 micron 18ct gold and the watch also has Swiss gold gilt movement. The Divine Ronde has convex sapphire crystal, anti-reflective coating and a screw down case. Put the watch on and remove it easily with the deployment clasp. This watch is water resistant to 30 meters and also has a four-jewel gold gilt Swiss quartz movement. Overall, this watch is an elegant accessory that looks good and is highly functional. Dress it up, dress it down, this watch will work with whatever you …
Christopher Ward Malvern Chronograph – alligator C3GWTR
Christopher Ward watches take pride in the fact that each watch is unique and manages to perfectly balance function and form. The Malvern Chronograph Christopher Ward watch is a quality made Swiss movement chronograph watch that's made with 5040.D movement. Each watch is engraved with a unique serial number and you get a full 60-day money back guarantee with each watch. If you find that it falls short of your expectation, simply return it without hassle during the two months. But Christopher Ward stands behind the quality of this Swiss Movement Malvern Chronograph watch. There's a five-year movement guarantee so you can have peace of mind knowing your investment will work well for several years. The strap is stylish and made out of genuine leather. The luminous indexes and hands are set in a lovely 10-micron 18 ct gold case with a 13-jewel …
Christopher Ward Malvern Automatic – alligator C5GWTR
Just because a Christopher Ward Watch doesn't cost as much as a Rolex, doesn't mean that you're getting a poorer quality timepiece. That was the goal of the designer when he started his brand. He wanted to put high quality watches within reach of everyone and that's exactly what the Christopher Ward Malvern Automatic watch does. It has all the hallmarks of a quality English designed watch including a prestigious Swiss Eta 2824-2 automatic movement. The genuine alligator strap adds the perfect touch of style to the watch. With this Christopher Ward watch you'll get an engraved unique serial number so you know you're getting an original that's not like any other watch in this line. The exhibition back is see through, the glass is cambered sapphire crystal glass and the gold-coloured case is actually real gold. Ten micron 18-carat gold to be …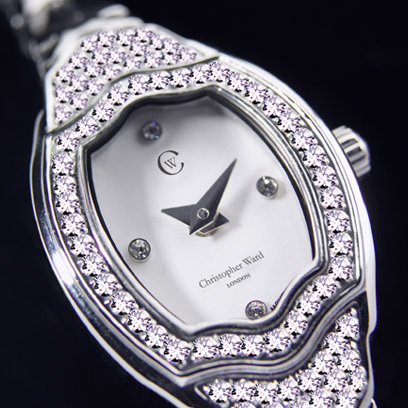 The new Ladies Encore Diamond Collection from Christopher Ward looks stunning, and features unique ladies watches encrusted with fine diamonds.
Christopher Ward's Encore Diamond Collection ladies watches stand out with 84 full cut VVS1 certified conflict-free diamonds – 0.853ct, a pretty hand polished stainless steel case and bracelet and as with all the Christopher Ward watches, features a high quality Swiss Movement.
Plus you can now get a 10% discount on the whole Christopher Ward range simply use the voucher code "SAVE10" during checkout to claim your 10% at Christopher Ward London Limited…
Top Ladies Christopher Ward Watches
Top Mens Christopher Ward Watches
---