Nautica Watches
When David Chu founded Nautica back in 1983 the only products offered were men's sailing jackets. Today Nautica, owned by the VF Corporation as of 2003, sells items for men, women, children and the home in over 60 countries. The most impressive items made by Nautica are its high quality watches. All casing are made of stainless steel and the watch bands come in stainless steel, leather, or bright coloured resin.
Nautica watches, made mostly for men, offer features any sailor, diver, or athlete could need or want. The chronograph (analogue stopwatch) is a staple in the collection and can be found on nearly every watch—men's and women's. Another feature all Nautica watches have, casing and wristband, is water resistance. It ranges from 30m water resistance (splashes and rain) to 100m water resistance (from splashes to submersion) as long as the casing remains intact, of course. Tolerance to atmospheric pressure is also listed on most models.
Sailors can appreciate the tachymeter (measures speed with the second hand and numbers on or on the case above the watch face) and the yachtimer (tracks up to 3 vessels, as well as, countdown to start). The Moon watch display rotates a sun and moon around the face allowing divers to keep track of the time of day along with the hour. Divers may also prefer an Indiglo light to assists at night or in darker depths.



Top Ladies Nautica Watches
---
Nautica Watch Reviews
Looking to buy a Nautica watch? Check out our reviews of the latest Nautica watches available in the market today.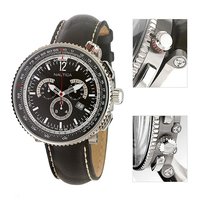 In the early 1990s Nautica introduced a line of watches. Designer David Chu was inspired by sailing and many features of the watches reflect that influence. Three types are available from Nautica: leather, metal and rubber sport watches. Most of the watches are made with men in mind, though a handful of elegant timepieces are designed to fit seamlessly with women's fashion.
The designs are highly functional and handsome enough to appeal to more than just sports enthusiasts. One example is Nautica's Ocean 50 Chronograph watch. The band is a rich chocolate brown with contrasting white stitching. The main casing is titanium with gold toned crown, controls and accents on the dial. The chronograph turns on an exterior brown bezel, as well as on the interior of the dial with a metallic tachymeter. A small window shows the date to the right of three sub-dials. The watch provides polished elegance …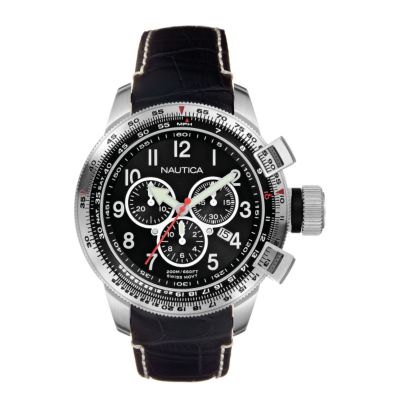 Nautica men's stainless steel chronograph strap watch
This Nautica men's stainless steel chronograph strap watch packs quite the visual punch with its striking stainless steel casing, black round face shape with contrasting silver numbers and its black leather strap with contrasting stitching. The watch, like all in the Nautica brand, combine exquisite Italian style and design with sport performance. These watches are specifically designed to help you Navigate Life. This Nautica men's stainless steel chronograph strap watch is strikingly modern and has chronograph, tachymeter and date functions which make the watch incredibly practical and useful. It's also water resistant to 200 metres. Large numbers on the dial face are easy to see which makes it simple for you to check the time at a glance and the second hand is a contrasting red for those times when you want to easily count the seconds. The movement of the Nautica men's …
Top Ladies Nautica Watches
---