Newest Diesel Watches
Published: February 3rd, 2010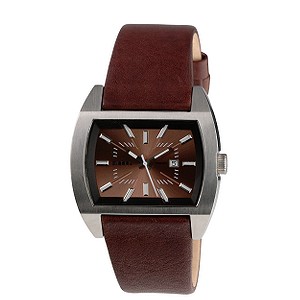 The Newest Diesel watches are out in the market now! Grab one of maybe dozens so you can match it with every outfit you like.
Diesel is one of the leading makers of watches and considered as a must have in the world of fashion. This brand is both appealing to men and women due to its sleek design. If you prefer wearing wrist watch that is not too big or bulky then grab Diesel watches now.
Diesel watches are popular for its unique design and durability. It is not only popular to ordinary individuals but as well as to TV and movie personalities, performers, models and athletes.
Diesel designers continuously create reputation for their watches. Their designs are known for its precision, reliability and excellence in advancing technology. Diesel watch is created with traditional styles and incorporates advanced technology, offering strength, flexibility, and beauty.
Diesel watches for men and women come with different designs and colors like:
White
Black
Brown
Light brown
Pink
Blue
Light blue
Gray
Dark brown
Dirty white
Diesel watches never run out of stock in the market due to the fact that it is one of the most in-demand brand in the world of fashion! Apart from its durability, it's also affordable and looks fabulous with any outfit you wear.
Diesel Men's Black Leather Strap Watch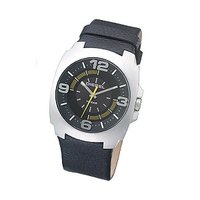 null Trust Diesel to create a trendy design. If you're looking for a funky watch then choose this bold style featuring a round black dial, teamed with a smooth black leather strap.GBP89.99
Diesel Men's Brown Leather Strap Watch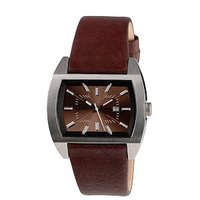 null Think Diesel, think sleek modern styling. That's exactly what you get with this eye-catching timepiece. The striking brown dial comes complete with date function and is smartly complemented by a brown leather strap. An accessory no modern man should be without.GBP89.99
Diesel Men's Brown Leather Strap East West Watch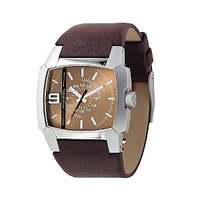 null Diesel men's watch featuring a brown leather strap and brown dial. With a subtle Diesel logo on the watch face, this is an understated and elegant watch for men to wear on all occasions. Equally at home for work or play, this is a designer watch for discerning gentlemen.GBP99.99
Diesel Men's Digital Yellow Dial Brown Leather Strap Watch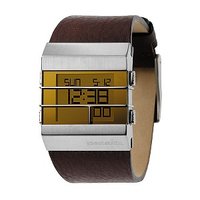 null Step into the future with this stunning Diesel men's watch. This digital watch features a brown leather strap and a yellow screen. Minimal in design this is future chic for any occasion. Diesel are world famous for their innovative designs and the quality and style here are typical of their work.GBP99.99
Diesel Men's Black Leather Strap Watch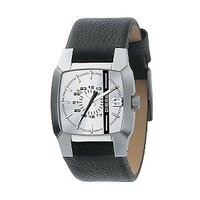 null This men's watch from Diesel, the world famous clothing designers, features the distinctive Diesel logo on the dial and a black leather strap. Chic and minimal this is a stylish timepiece from one of the worlds most famous design houses.GBP79.99
---