Christmas Mens Watches For Him Gift Guide – 2011 Update
Published: November 29th, 2011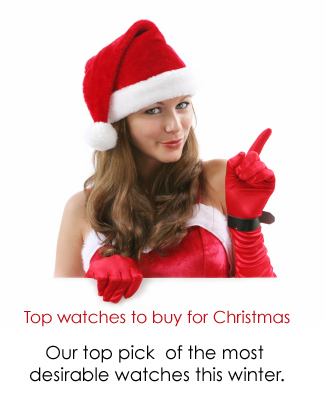 This is a girl's guide to buying a watch for your man. Buying a gift, especially a watch, will require you to know about your man, his style, taste, and his liking. It would not require you to think a lot but to follow your instincts to get the right one. Other aspects that would help you to make the right choice would be the type of his personality, whether he is a reserved kind of a guy or an outgoing one, the different colours or styles he prefers the most, etc.
We have therefore picked some of our favourite men's watches for Christmas, check out our guide and top list to make the right choice this Christmas!
Knowing the fact that whether he would go for a more practical watch or would prefer a rather sleek variety, flashy or a rather classic variety should help you make your choice. Most men do like vintage looking watches as well, which speaks for their taste of antique and classy gadgets. You can also look for a watch that goes well with his job's nature.
While buying a watch, apart from the personality aspects of your man, you might also need to focus on the size, colour, style and price. If your man is of a big stature, then you would need to buy a watch of a bigger size. As a piece of advice, men do not go for jazzy and flashy colours, they usually like the dull ones among where blues and browns are the most preferred, in their deeper tones.
Our favourite shops for buying designer watches online have to be Ernest Jones, Goldsmiths, Christopher Ward as they have a great selection of watches, and solid money back guarantees if the watch doesn't quite fit.
Check out our favourite men's watches by budget:

Mens watches under £100
DKNY men's brown leather strap watch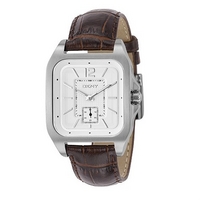 A stylish watch for men, combining a modern feel with a classic look. Featuring a brown leather strap, rectangular dial and DKNY logo.GBP99.00
Accurist men's black chronograph strap watch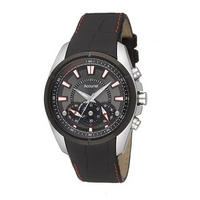 Was £115, Now £75.0Perfect for the active modern man in your life, this stylish and sporty strap watch by Accurist features essential chronograph, a sleek black dial with red highlights and matching leather strap.GBP75.00
Seiko men's white dial & black strap watch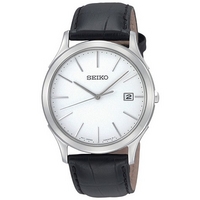 Was £135, Now £100.0Seiko men's black strap watch featuring large round white dial with date function and stainless steel trim. A classic design from Seiko that's ideal for everyday wear.GBP100.00
Mens Watches under £200
Emporio Armani Classic men's leather strap watch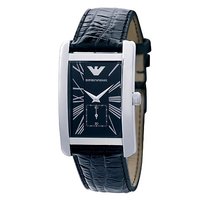 An elegant, contemporary men's watch featuring a stainless steel case, masculine black leather strap and rectangular black face featuring silver roman numerals and the famous Armani eagle logo.GBP150.00
Rotary men's stainless steel automatic moonphase watch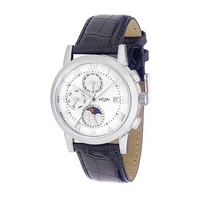 This men's Rotary automatic watch defines fine craftsmanship and attention to detail. The white dial features Roman numerals, three sub-dials displaying day, month and sun/moon phase and date feature and black leather strap. It conforms to Rotary's unique waterproof standard, giving you the reassurance that you can swim and dive in it all day. Comes with Lifetime Guarantee.GBP199.00
CK men's stainless steel bracelet watch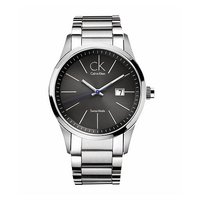 This stunning watch from Calvin Klein combines Swiss Made excellence with CK styling. Featuring a stainless steel bracelet, round grey dial and date function, this elegant design is perfect for the modern gentleman.GBP200.00
Seiko men's chrono watch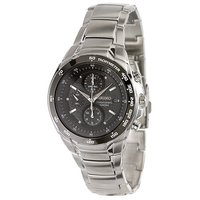 This Seiko bracelet watch features a black dial, tachymeter, chronograph and 100m water resistance, this is a stylish sports watch for men. Perfect for the action man in your life, even if that action man is you.GBP195.00
Citizen Eco Drive brown leather strap watch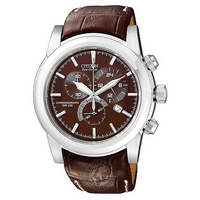 This is a fashionable and functional watch from Citizen, with the famous Eco Drive which charges the battery through solar power from any light source. Featuring a brown leather strap, round brown dial and chronograph this is the ideal watch for any occasion.GBP189.00
Mens watches under £350
Tissot PRC200 men's leather strap chronograph watch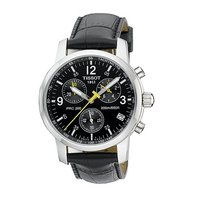 The Tissot PRC200 men's leather strap chronograph is a sturdy, sporty-looking watch for men in stainless steel with black leather strap, chronograph and round black face with bright yellow highlights. It also has a date function and screw down crown.GBP270.00
Emporio Armani Classic men's stainless steel diamond watch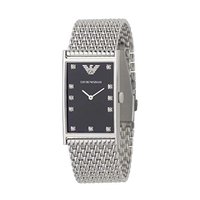 This stylish men's Emporio Armani watch has a stainless steel case and bracelet. Its rectangular brown dial is accented by diamond hour markers.GBP299.00
Nautica GTS Titanium Ocean 50 black strap watch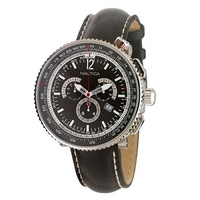 The Nautica Ocean 50 is everything a sailor could want from a watch. Featuring a chronograph this titanium watch is the ultimate in sports watches for men.GBP350.00
Burberry men's stainless steel chronograph watch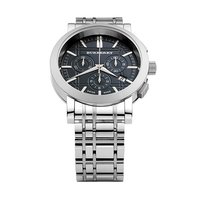 A stylish watch for men with a stainless steel case and bracelet. Its round blue dial is etched with Burberry checks and has a chronograph function and date display. It's the ideal men's watch for day or for night.GBP350.00
Mens watches over £350
Hamilton Jazzmaster men's black leather strap watch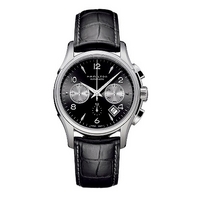 American watch manufacturers Hamilton have been making ground breaking watches since 1892. Leaders in style and design, Hamilton were the first watch company to launch an electric watch in 1957 and the worlds first digital watch in 1972. Hamilton watches are all about quality, technology and design and are some of the finest watches in the world.GBP990.00
Longines GrandeVitesse men's black strap watch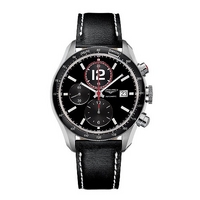 Style and function combine to create a stunning chronograph watch from Longines. Black with a hint of red to catch the eye, the round dial is complemented by a black leather strap with highlighted white stitching.GBP1730.00
Tag Heuer Carrera Automatic men's chronograph bracelet watch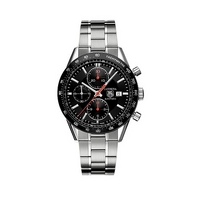 An irresistible timepiece from Tag Heuer. Indulge in a little luxury with this stunning watch that features a stainless steel bracelet, chronograph and date function. The chic black dial is highlighted with red for an extra sporty look.GBP2595.00
Tag Heuer Monaco LS Calibre 12 Automatic men's strap watch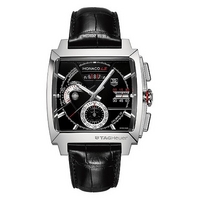 Teaming classic design with modern functionality, the Tag Heuer Monaco LS Calibre 12 Automatic features chronograph, black dial with red highlighting, stainless steel case and black crocodile leather strap. Inspired by Steve McQueen and his Porsche 917K in the movie Le Mans, it also boasts a linear system that displays the current second in a window at 3 o'clock.GBP5495.00
Omega Seamaster James Bond Automatic men's watch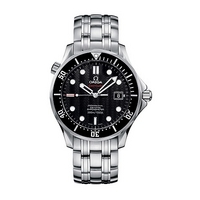 The Omega Seamaster Automatic men's watch, as worn by James Bond. This stunning watch features a stainless steel bracelet, automatic mechanism, tachymeter, chronometer, helium escape valve, screw in crown and date. A stylish watch for the action man in your life.GBP2400.00
Baume & Mercier Riviera black strap watch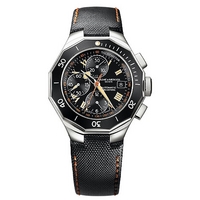 A stunning men's watch from leading Swiss brand Baume & Mercier. Featuring a black strap, round black dial, date function, 200m water resistance and chronograph.GBP2425.00
Ball men's Engineer Master black watch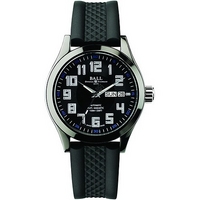 Ball men's Engineer Master watch featuring modern black rubber strap and automatic black dial encased in stainless steel. A chic watch from Ball combining contemporary design features and the highest standards of precision and reliablity.GBP1180.00
---