Guide To The Best Ladies Watches To Buy For Her At Christmas – 2011 Update
Published: November 29th, 2011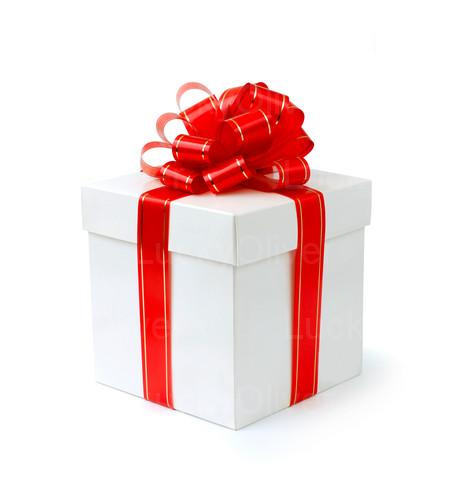 As your shoes will tell a lot about who you are, your watch speaks the most about your personality. It tells about who you are as a person, your likes, your taste and lifestyle. A watch is an excellent gift to your woman, which will truly represent her personality.
If you have a chance to window shop watches for women, you will see that the market is swamped by a lot of new styles and unique models that would not allow you to take your eyes off of them. Every year there are new designs and styles added and with such a huge collection, it really becomes difficult to pick the one that will be the perfect choice and represent your woman the best.
We have therefore picked out the best ladies watches you can buy her for Christmas, and some of the hottest deals around for gifts. So relax, put you feet up, and check out the most desirable watches for her this Christmas – Plus if you buy online you can take advantage of gift wrapping so no more messy sticky tape moments!
Ladies watches under £100
DKNY ladies' mother of pearl white leather strap watch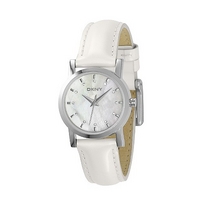 An elegant ladies' watch from DKNY featuring a white leather strap and round mother of pearl dial set with glittering stones.GBP79.00
Marc by Marc ladies' pink rubber strap watch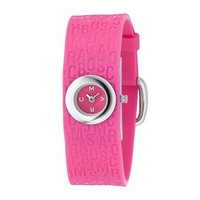 Was £100, Now £60.0Marc by Marc Jacobs stunning ladies' fashion watch with pink rubber strap and logo.GBP60.00
DKNY ladies' white stone set bracelet watch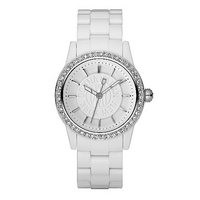 DKNY ladies' clean white bracelet watch featuring stone set bezel and round white dial with logo. A stylish statement timepiece, the perfect gift for any occasion.GBP99.00
Accurist ladies' palladium-plated crystal watch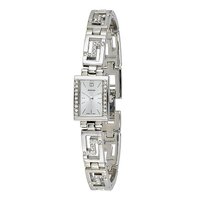 Was £125, Now £82.0This Accurist ladies' watch has an unusual palladium-plated bracelet strap and rectangular case set with sparkling crystals, creating a watch that's just perfect for evening wear.GBP82.00
Ladies watches under £200
DKNY ladies' stone set cuff watch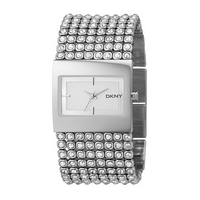 A dazzling and glamorous ladies' watch from DKNY. Featuring a stainless steel wide cuff set with sparkling crystals, this is an elegant watch for elegant women.GBP150.00
CK Calvin Klein Fly ladies' watch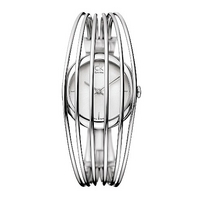 Fashionable, funky and modern, this eye-catching ladies' watch from CK Calvin Klein features a unique cage design.GBP200.00
Citizen Eco-Drive ladies' stone set watch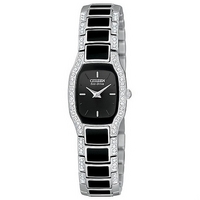 An elegant ladies' watch from Citizen. Featuring dazzling crystal along the bezel and bracelet and stainless steel and black bracelet with black rectangular dial and the famous Eco Drive which charges the battery through solar power from any light source.GBP199.00
Juicy Couture ladies' stone set strap watch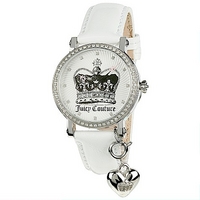 Get casual glamour. With Juicy Couture's iconic charm watch. Ultra-feminine, it features a stainless steel face, which boasts the famous crown, and a bezel that's studded with Swarovski crystals. Its textured dial is surrounded by crystal hour markers. It also features signature Juicy Couture embellishments and a pretty heart charm.GBP175.00
Marc by Marc ladies' black strap big logo watch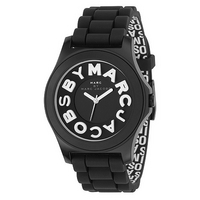 Marc by Marc Jacobs ladies' fashion watch with big, bold logo and black rubber strap.GBP125.00
Ladies watches over £200
Dreyfuss & Co ladies' stainless steel bracelet watch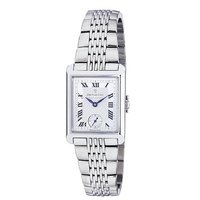 A stainless steel case and bracelet teamed with a rectangular, silver-coloured face give understated elegance to this ladies' watch. It also features black roman numerals and an offset second hand, protected by sapphire glass. The Seafarer waterproof standard provides the reassurance that you can enjoy swimming and watersports without damaging your watch.GBP499.00
Tissot T-Round ladies' stainless steel diamond watch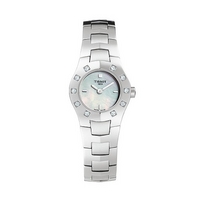 The Tissot T-Round is a pretty, modern ladies' watch with a distinctive round mother of pearl dial. It also features a gorgeous diamond-studded stainless steel case and matching bracelet.GBP555.00
Rado ladies' Integral watch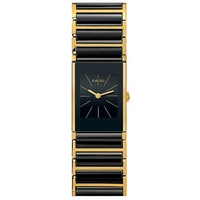 Rado watches feature cutting edge materials, quartz movement and 21st century designs to bring you the very finest in Swiss made luxury timepieces. A stylish, chic and fashionable watch for ladies.GBP1200.00
Ebel ladies' rectangular mother of pearl dial bracelet watch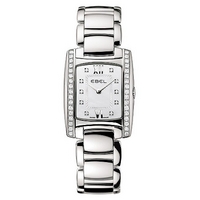 Ebel ladies' modern timepiece featuring rectangular mother of pearl dial with a row of diamonds either side. This chic design is both feminine and contemporary.GBP3600.00
Dior Baby D ladies' stainless steel bracelet watch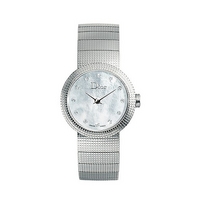 The brand's beautiful jewellery watches are designed by Dior's fine jewellery designer Victoire de Castellane. The Baby D comes from the stylish La D de Dior collection and features a chic round white mother of pearl dial with diamond accents and a textured stainless steel bracelet.GBP1050.00
Burberry ladies' white ceramic bracelet watch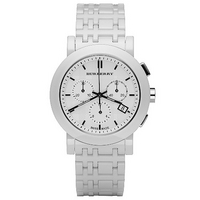 Burberry ladies' clean white ceramic bracelet watch featuring large chronograph date dial with signature Burberry logo. A stylish and statement watch for everyday style.GBP650.00
---