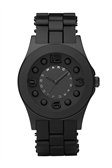 Marc Jacobs is an iconic fashion designer, renowned for his unique collection of watches, jewellery, wallets, handbags, and shoes.
This American designer is one of the most Influential People in the world according to 2010's Time Magazine. On the other hand, he is also ranked 12th on Out Magazine's 2011 list of "50 Most Powerful Gay Men and Women in America".
So for that Autumn/Winter designer look, make sure to check out his latest watch collection.
…