Breitling Watches The Choice For Armed Servicemen And Aviators
Published: July 6th, 2009
Breitling watches have been a favorite among armed servicemen and women and civil aviators for years. Founded in 1884, the company has been providing quality products at affordable prices. Men can choose from product lines named Navitimer, Windrider, Professional, and AeroMarine. Rugged, technologically advanced, and precise, each watch carries the Breitling guarantee and a Caliber B01 Motor. Increasing its salability, the AeroMarine Avenger Seawolf Chrono can be submerged in water at 3,300 feet and still remain functional.
Besides containing a glareproof sapphire crystal, both the watch and the band are made from stainless steel which helps make it water-resistant. Peddling its wares in Africa, Asia, Central America and the Carribean, Europe, the Middle East, North America, Oceania, and South America, it is hard to find a person who hasn't heard of Breitling. The company's distinct logo shows a monogrammed letter B wrapped around an anchor and centered between two aviator's wings. Each watch contains the logo to show its authenticity.
Ranging in colour, style, and price, Breitling watches fit everyone's lifestyle. Because of their durability and highly sophisticated parts, the watches last years and years if properly maintained. A limited warranty protects the craftsmanship of each watch. More information can be found online at the company's website or through a retailer that carries Breitling watches. Pairing up with the ever luxurious Bentley, Breitling has designed a watch as a tribute to the remarkable vehicle. The Bentley GMT Chronograph is inspired by the sleek design of the car and even imitates its dashboard and speed dial.
Click here to see the whole range of Breitling watches to buy.
Check out our favourite Breitling watches to buy this season: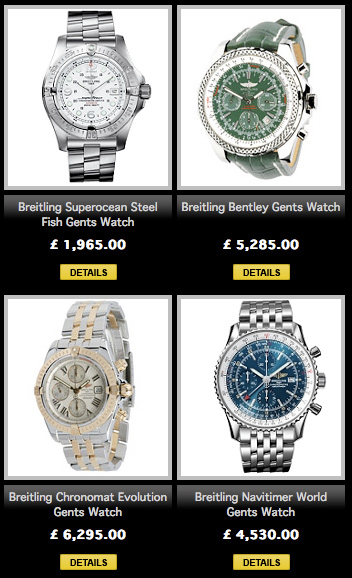 ---