The Casio G-Shock GIEZ 1000BJ
Published: August 25th, 2007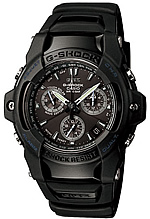 Casio have recently released the G-Shock GIEZ 1000BJ, which sounds like the insides of the Casio Oceanus 5 within a dark and bold GIEZ case. The new Casio G-Shock GIEZ are currently only available in Japan, so the only way to get one in the UK is through a Japanese Casio watch importer.
The case of the Casio GIEZ 1000BJ is in a nice black stainless steel case,with an abrasion-resistant coating, and a rather standard G-Shock rubber strap. The face is made of a scratch-resistant plastic or acrylic that is used in most G-Shocks as opposed to the sapphire crystal of the Oceanus 5 Motor.
This G-shock watch is ideal for weekends away and for anyone who enjoys the outdoors and don't want to have to worry about breaking their watch or losing time whilst paintballing in a forest…
The Casio G-Shock GIEZ 1000BJ goes for about £123.
---