Juicy Couture Watches – Playful And Elegant.
Published: July 17th, 2009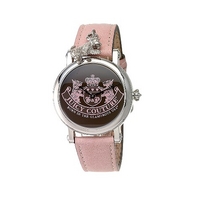 Since fashion label Juicy Couture was acquired by Liz Claiborne Inc. in 2003 the product lines were expanded beyond it's apparel and accessories. Watches were one of the new products licensed through the Movado Group Inc. in early summer 2006. Juicy Couture watches include two types: playful and elegant.
Juicy Couture's playful watches come in bright or pastel colours with part of the Juicy Couture crest integrated into the design. The crest is the phrase "Love G & P" with a crown above and two Scottie dogs on each side.
Three jelly strapped watches are brightly coloured. The face of the first, a blue watch, features Swarovski crystals circling the hands. A crown is also on the face with blue Arabic numerals. Surrounding the face of the watch is a matching blue bezel with the numbers 1 through 12 written in Roman numerals. The bright pink watch is similar is design except the 12, 3, 6 and 9 numerals are replaced with silver shapes imbedded with crystals: crown, heart, Scottie dog, and another heart respectively. On the yellow watch, the Arabic numerals are inside the circle of crystals with "Juicy Couture" replacing numbers 12, 1 and 2.
The most impressive of the elegantly design watches is the "Her Royal Highness" watch. Made of stainless steel, with a white rubber strap, the face is outlined with Swarovski crystals, the brand's seemingly favourite accent. The truly unique feature is the Arabic numerals. The numbers 05 to 60 appear in place of 1 through 12.
Check out our favourite Juicy Couture Watches:
Juicy Couture Dalton ladies' stainless steel bracelet watch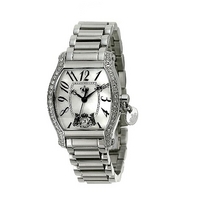 Juicy Couture – Shop juicy for funky fashion and fun for women. The Juicy Couture Dalton ladies' watch features a stone set bezel, white dial, stainless steel bracelet and date function. A modern and funky watch for modern funky women.GBP275.00
Juicy Couture HRH ladies chronograph watch
Juicy Couture – Shop juicy for funky fashion and fun for women. Get sporty with this totally fabulous chronograph watch from Juicy Couture. Featuring a stainless steel bracelet with black detail, round brown dial with pink details and a crown motif. This is sporty fashion for royalty.GBP350.00
Juicy Couture ladies' stainless steel bracelet watch.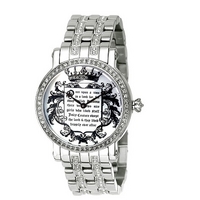 Juicy Couture – Shop juicy for funky fashion and fun for women. Grab yourself some of the Juicy lifestyle with this stunning stainless steel bracelet watch from leading glamour brand Juicy Couture. Featuring a sparkling bracelet and fairy tale motif, this is a fabulous watch for any occasion.GBP350.00
Juicy Couture ladies' chronograph bracelet watch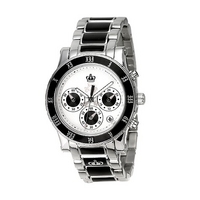 Juicy Couture – Shop juicy for funky fashion and fun for women. A stylish, sporty chronograph watch from leading ladies' fashion house Juicy Couture. Perfect fashion for funky women, featuring a stainless steel bracelet with black and chrome design and white dial.GBP350.00
Juicy Couture Royal ladies' black leather strap watch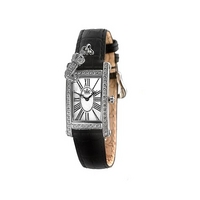 Juicy Couture – Shop juicy for funky fashion and fun for women. Grab yourself some Juicy glamour with this stunning ladies' black leather strap watch from Juicy Couture. A fashionable gift for a modern woman.GBP195.00
Juicy Couture HRH ladies chronograph watch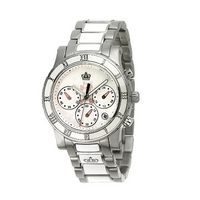 Juicy Couture – Shop juicy for funky fashion and fun for women. Get sporty with this totally fabulous chronograph watch from Juicy Couture. Featuring a stainless steel bracelet with white detail, round white dial with pink details and a crown motif. This is sporty fashion for royalty.GBP350.00
Juicy Couture ladies' pink strap watch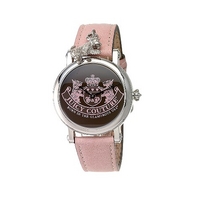 Juicy Couture – Shop juicy for funky fashion and fun for women. Grab some US glamour for yourself with this stunning Juicy Couture 'Born in the Glamorous USA' watch. Loud and proud, this watch features a round brown dial and little dog charm.GBP125.00
Juicy Couture Royal ladies' black strap watch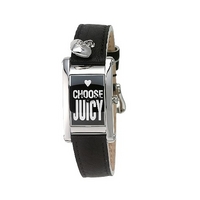 Juicy Couture – Shop juicy for funky fashion and fun for women. Choose Juicy for yourself with this stylish ladies' black strap watch from Juicy Couture. Modern, fun and fashionable watches for women.GBP125.00
---