Marc Jacobs Watch Collection Reviewed
Published: July 22nd, 2009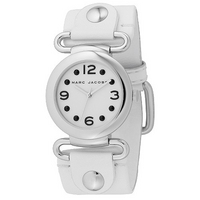 In 2005, fashion designer Marc Jacobs expanded his main Marc Jacobs Collection label's fall line to include luxury watches. They were released exclusively through Fossil Inc. and only a limited number were produced. Marc Jacobs designed nine watch styles for the limited release collection, priced from £300 to over £2,500. Vintage style smaller oval faces and more delicate bands inspired most of the collection, which featured materials such as grosgrain ribbon and small diamonds.
Other luxury watches have been released since then. For example, one watch features a genuine alligator leather band, and the casing and face are set with 128 diamonds.
For the 2006 fall fashion season the designer debuted a line of less expensive timepieces under the Marc by Marc Jacobs label. These watches are quirky chic in design and are more diverse in wear options than the high-end collection. The designs are in the form of traditional watch styles, necklace pendants, or styled as bracelets.
Traditional styles have simple faces and elegant bands, most are made from metals or leathers. Quirky, and sometime brightly coloured, designs are used in the necklace and bracelet styles. One very quirky design is the "Sidney" skull wristwatch. An enamel plate of the cartoon-like skull covers the face movement. Two holes in the plate allow the numbers to be seen: a hole in the left eye for the minutes and a hole in the nose for the hour.
Only Marc Jacobs know what unique watch designs are in the future of the brand.
Our favourite Marc Jacobs include:
Marc by Marc Jacobs ladies' digital bracelet watch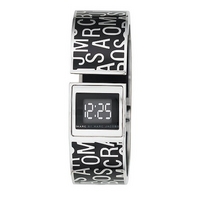 Marc by Marc by Marc Jacobs, classic glamour for women. This stunning ladies' watch from leading fashion house, Marc by Marc Jacobs, features a digital watch in a stainless steel bracelet with the Marc by Marc Jacobs logo on the case and the bracelet.GBP180.00
Marc by Marc Jacobs ladies' stainless steel bracelet watch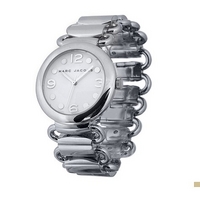 Marc by Marc by Marc Jacobs, classic glamour for women. Exclusive to Ernest Jones, this elegant watch is as much jewellery as it is a timepiece. An elegant gift for the woman of your dreams, whatever the occasion.GBP200.00
Marc by Marc Jacobs ladies' dial black strap watch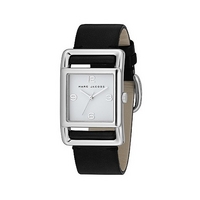 Marc by Marc by Marc Jacobs, classic glamour for women. An elegant ladies' watch featuring a black strap and rectangular, stainless steel case from Marc by Marc Jacobs. Classic glamour for a modern woman.GBP140.00
Marc by Marc Jacobs ladies' round white strap watch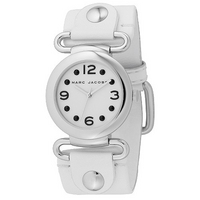 Marc by Marc by Marc Jacobs, classic glamour for women. A fashionable and stylish watch for elegant women from leading fashion brand Marc by Marc Jacobs. Featuring a white strap, round white dial and stainless steel case.GBP180.00
---