Nautica's Latest Watch Collection by David Chu
Published: July 25th, 2009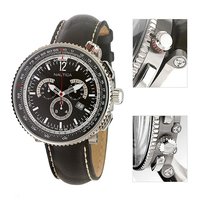 In the early 1990s Nautica introduced a line of watches. Designer David Chu was inspired by sailing and many features of the watches reflect that influence. Three types are available from Nautica: leather, metal and rubber sport watches. Most of the watches are made with men in mind, though a handful of elegant timepieces are designed to fit seamlessly with women's fashion.
The designs are highly functional and handsome enough to appeal to more than just sports enthusiasts. One example is Nautica's Ocean 50 Chronograph watch. The band is a rich chocolate brown with contrasting white stitching. The main casing is titanium with gold toned crown, controls and accents on the dial. The chronograph turns on an exterior brown bezel, as well as on the interior of the dial with a metallic tachymeter. A small window shows the date to the right of three sub-dials. The watch provides polished elegance and nautical assistance for casual sailing or yacht racing.
Another polished watch from Nautica is the Sport Ring Resin watch. The red and black tomes of the dial are stunning in the polished, stainless steel casing. It's bezeled chronograph doubles as a compass, with NW, SE and SW identified along with the 15, 30 and 45 minute marks. For a casual and comfortable fit the band is made of soft black resin.
Nautica's watches are handsomely designed with elegant materials and tones. They feature nautical functions that can be used for more than water sports on dry land or the high seas.
Check out our top pics for this year:
Nautica men's rose gold-plated strap watch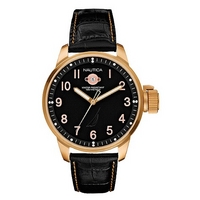 Nautica watches – combining exquisite Italian style and design with sport performance as you 'Navigate Life'. With a stunning black dial that contrasts beautifully with the rose gold surround, this stylish date watch from Nautica is a timepiece that any modern man will love.GBP150.00
Nautica men's stainless steel chronograph strap watch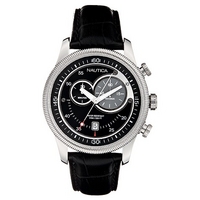 Nautica watches – combining exquisite Italian style and design with sport performance as you 'Navigate Life'. Styled with a cool, contemporary look, this striking timepiece from Nautica beautifully combines fashion and functionality. It features chronograph and date function and is also water resistant to 100 metres.GBP150.00
Nautica men's stainless steel GMT strap watch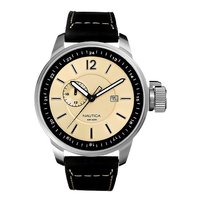 Nautica watches – combining exquisite Italian style and design with sport performance as you 'Navigate Life'. With a stunning champagne dial, this stainless steel timepiece from Nautica is undoubtedly sleek and sophisticated. A smart black leather strap with highlighted stitching completes the modern look perfectly. It's also water resistant to 100 metres.GBP145.00
Nautica men's stainless steel chronograph bracelet watch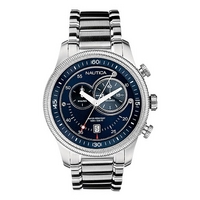 Nautica watches – combining exquisite Italian style and design with sport performance as you 'Navigate Life'. With its striking blue dial, this eye-catching timepiece from Nautica well and truly stands out from the crowd. Featuring chronograph and date function, it's water resistant to 100 metres too. Perfect for the active modern man who just loves the great outdoors.GBP185.00
Nautica men's stainless steel chronograph strap watch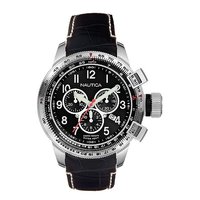 Nautica watches – combining exquisite Italian style and design with sport performance as you 'Navigate Life'. Strikingly modern, this highly functional timepiece from Nautica features chronograph, tachymeter and date function. It's also water resistant to 200 metres, making it perfect for the active modern man.GBP265.00
Nautica men's stainless steel white chronograph strap watch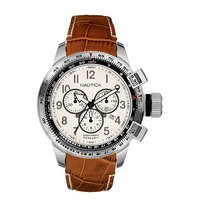 Nautica watches – combining exquisite Italian style and design with sport performance as you 'Navigate Life'. With a striking white dial and smart brown leather strap, this functional timepiece from Nautica is sure to become a modern classic. Complete with chronograph, tachymeter and date function, it's also water resistant to 200 metres.GBP265.00
Nautica GTS Titanium Ocean 50 black strap watch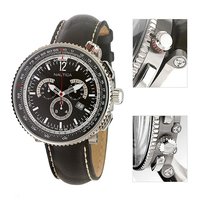 Nautica watches – combining exquisite Italian style and design with sport performance as you 'Navigate Life'. The Nautica Ocean 50 is everything a sailor could want from a watch. Featuring a chronograph this titanium watch is the ultimate in sports watches for men.GBP345.00
---