Since 1976 – The Raymond Weil Watch Collection Reviewed
Published: July 28th, 2009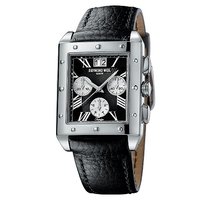 Diamonds, silver, mother-of-pearl, alligator leather, 18 Carat gold, blue and black sapphires, shantung satin, ivory. This is an incomplete list of the exceptionally fine materials used to make Raymond Weil's luxury watches.
Since 1976, Raymond Weil has been designing and crafting fine Swiss watches.
The newest model of "Shine" from the Ladies collection demonstrates classic elegance with it's polished steel, black shantung satin and 76 small, VS quality diamonds. The face is a narrow rectangle of Anthracite grey. Each hour is marked with a diamond except the Roman numerals for 12 and 6 o'clock.
Another new model has been released of "Freelancer" from the Gents collection. Winding automatically with the movement of the wrist, a battery need never be purchased for this handsome timepiece. The round face features a chronograph, two date windows and three sub-dials. The band is a rich brown leather with contrast stitching. Yellow second and chronograph hands stand out against the black and silver markings under the sapphire crystal.
Of the other ten collections offered by Raymond Weil, five are made with pieces for men and women. One such collection is the "Parsifal" with a combined total of 18 watches. The Ladies "Parsifal" models are quartz movement as opposed to the automatic winding "Parsifal" models for Gents. While the movements differ, the overall aesthetic of the collection mixes polished and matte metals for the casings and bracelets. Roman numerals or diamonds mark the hours on mother-of-pearl or silver faces. Raymond Weil's watches are fine pieces of quality craftsmanship.
Make sure you check out our favourite watches from Raymond Weil:
Raymond Weil men's stainless steel bracelet watch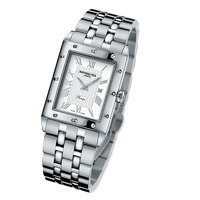 A classic stainless steel bracelet watch from Raymond Weil. Sophistication for men. For Raymond Weil, aestheticism is a preoccupation in the development of their luxury Swiss watches for men.GBP575.00
Raymond Weil Tango men's black leather strap watch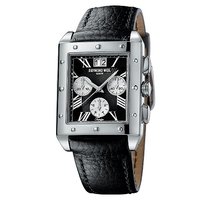 For Raymond Weil, aestheticism is a preoccupation in the development of their luxury Swiss watches for men. Featuring a strong leather black strap with a sturdy rectangular case, black dial with roman numerals and the date, this is an extremely elegant men's watch from Raymond Weil. Perfect for work or play.GBP695.00
Raymond Weil Tango ladies' two colour bracelet watch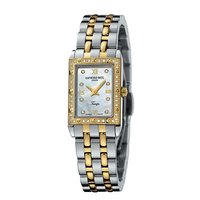 For Raymond Weil, aestheticism is a preoccupation in the development of their luxury Swiss watches for men. Make a statement with this glamorous ladies' watch from Raymond Weil. Featuring a two colour bracelet and case, with a rectangular stone-set dial and the date, this is a stylish and elegant dress watch.GBP995.00
Raymond Weil Parsifal men's stainless steel bracelet watch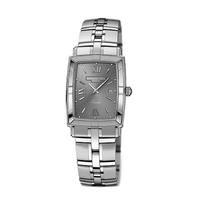 For Raymond Weil, aestheticism is a preoccupation in the development of their luxury Swiss watches for men. This is an elegant watch from one of the world's leading watch manufacturers, Raymond Weil. Featuring a stainless steel bracelet, rectangular grey dial, this is an ideal men's watch for work or play.GBP1125.00
Raymond Weil Tradition men's black leather strap watch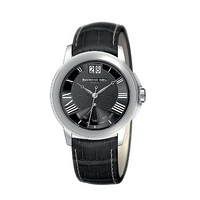 For Raymond Weil, aestheticism is a preoccupation in the development of their luxury Swiss watches for men. Give your man an extra touch of style with the Raymond Weil Tradition, an elegant black leather strap watch with round black, stylised dial and flyback date function.GBP695.00
---