James Bond Movie Watches
Published: November 1st, 2008
The James Bond film series is well known for exotic venues, evil nemesis's, and most importantly the future thinking gadgets and watches he uses to defeat his enemies.
Since the inception of our favourite secret agent character by Ian Fleming, James Bond's designer watch has been a defining part of his character and everything which surrounds the film's theme.
In his books, Ian Fleming mentions that James Bond wears a Rolex, but without specifying which model. From the early Rolex watch which had to be bought by the film crew, to the latest Omega Seamaster's used in Casino Royale and Quantum Of Solace today, we will look at the exotic range of watches which have featured in the James Bond film series.
 1962-1974 The Rolex SubMariner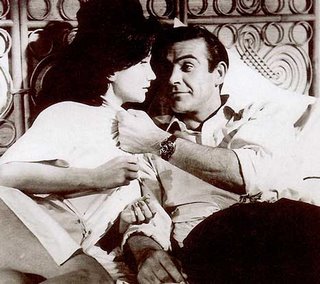 The Rolex was the original watch brand (although no model was specified) chosen for James Bond by writer Ian Fleming probably because he owned one himself, and could relate to the look and feel of the 1960's Rolex Sub Mariners.
The Rolex Submariner went well with the suave and classy character we all now know so well, and the partnership lasted for years, with its next appearance in From Russia with Love, Goldfinger, Thunderball and You Only Live Twice.
The Rolex Submariner also made an appearance in Live And Let Die, featuring a range of exciting features which he used mostly for his own entertainment for example: Activating the magnet and unzipping Miss Caruso's dress or when Bond used the magnet to get hold of a compressed air bullet.
Bond also used the mini saw to cut through rope around his wrists and free himself!
The standard looking Rolex diving watch had a few added extras:
High power electromagnet, which could deflect the path of a bullet

The bezel was equipped with a diamond cutting wheel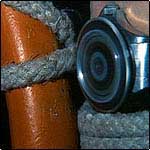 1973  Hamilton Pulsar
The Hamilton Pulsar P2 2900 LED digital watch made a bried appearance in the 1973 Live And Let Die, which mirrored the shift in technology towards electronic watches. Although it didn't contain any added features, the watch did represent real innovation in watchmaking.
1977-1985 The Seiko Years
The dawn of the digital age required James Bond to update his appearance, and he did so in part, by changing to a digital watch. Seiko was the watch of choice, making its debut appearance in The Spy Who Loved Me (1977) with Roger Moore.
Seiko model 0674 Satelite ticker
The first James Bond Seiko was the model 0674, which printed messages sent from HQ on a built-in ticker tape printer.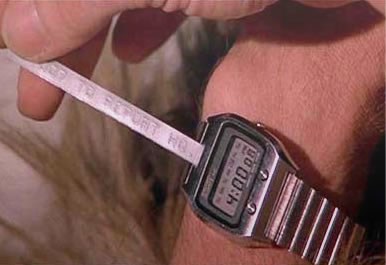 Seiko m354 Memory Bank 'Plastique Explosive' Wristwatch 1979 'Moonraker' Bond film, (explosive coil hidden in caseback)
Bond and Holly Goodhead are trapped inside the bunker of a space shuttle's launch pad, under it's rocket boosters. Time quickly running out, Bond removed the explosive, stuck it to a welded exhaust grate and blew it off the wall, making for an easy escape.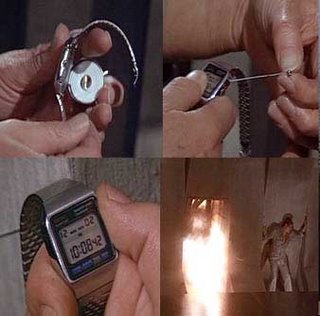 H357 Seiko analog digital display watch with scrolling LED message bar
In the James Bond film, For Your Eyes Only (1981), again with Roger Moore, Seiko supplied the H357 analog digital display watch with scrolling LED message bar.
This was a newer version of 007's ticker tape watch. A digital and analog combination watch, it had a built-in satellite phone to receive calls direct from MI6.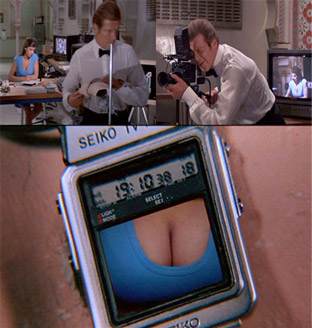 Seiko G757 Octopussy (1983).
Then came arguably the most desirable digital watch in the world (even today!), the Seiko G757 watch which appeared in Octopussy (1983). Seiko released many versions of this watch and it is often seen on sites such as ebay being cited as 'the James Bond Seiko', however it was only the Sport 100 version that appeared in the film.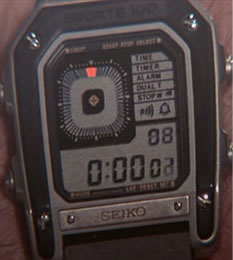 The watch had a homing device and a microphone monitor, used to track down the Faberge egg featured in the film. Unfortunately, Seiko stopped producing this watch a long time ago and it seems the only way to get hold of one is through vintage dealers and online auction sites.
A G757 in good condition can command some high prices amongst collectors and James Bond enthusiasts.
1995- Present Omega Watches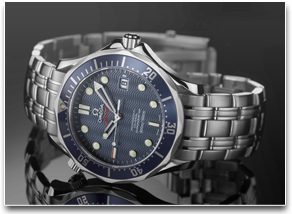 The Omega Seamaster made its debut in the film GoldenEye featuring Pierce Brosnan, and the Bond producers have not looked back – The Omega Seamaster is the Bond Watch to have.
In the 1995 Bond movie GoldenEye, the Omega Seamaster has a range of upgrades including a lazer and a remote explosives detonation device. A classic combination!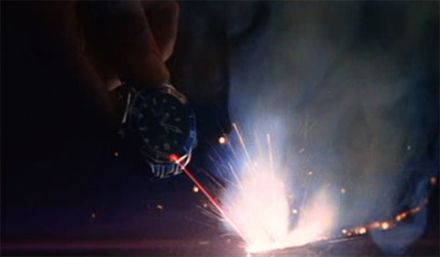 In the 1999 'World Is Not Enough' Omega Seamaster, Bond receives additional upgrades thanks to the chinese secret service including:
A high-power laser diode, capable of cutting through two inches of steel
A button used to arm and disarm the magnetic mines.
A detachable detonator
A miniature grappling hook which includes a 50 foot high tensile micro filament, able to support 800 pounds. Bond puts this into use to escape a potentially explosive situation.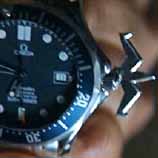 2006-2008 Casino Royale & The Quantum Of Solace Omega Seamaster
In Casino Royale, and The Quantum Of Solace, Bond is back minus the gadgets. The watches are the standard editions you can purchase today, but featuring a new updated design.
Omega have two previous 007 limited edition Seamasters, of which only 10,007 of each model were made, making them instant collectors pieces and selling out quickly. Both featured a blue bezel, which makes the new limited edition Seamaster even more unique.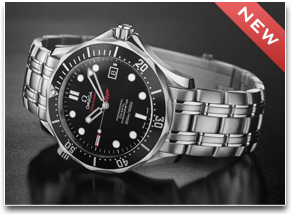 You can now buy the new Limited edition 2008 Bond Omega Seamaster here, these should be sold out soon as the film launches throughout the UK.
---