Tag Heuer Meridiist Phone Review & Where To Buy
Published: May 16th, 2009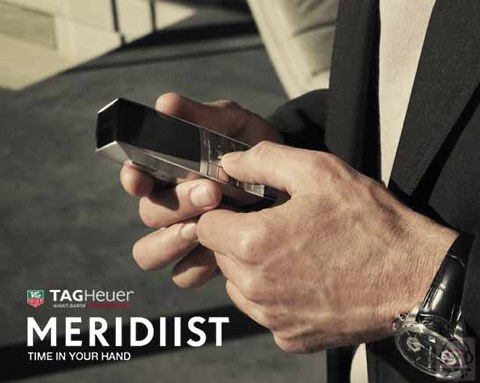 After many rumours, the Tag Heuer Meridiist – The watch brands luxurious mobile phone is finally officially available to buy online.
The oddly named Tag Heuer Meridiist is a high end mobile phone handset which combines the Swiss-made Tag Heuer heritage from its timepieces, with the technical savvy of the French mobile phone company called Modelabs which have been responsible for the successful Levi's phone.
The Tag Heuer Meridiist (which is likely to be mis-spelled as Meridist, Merdist, or even Merrydist I'm sure) mobile phone is made from the finest elements available today: We are looking at watch-making grade stainless steel, two un-scratchable 60.5 Carat sapphire crystal displays and rare alligator or leather panels.
One thing which really strikes us with the Tag Heuer Meridiist is the solid build, and the long battery life – besides 7 hours of talk time it is said to offer almost unmatched standby time of 672 hours (or 28 days). This phone will not only look great in your hands, but last the distance in between meetings and travels.
The Tag Heuer Meridiist's 2 megapixel camera is a bit disappointing, we would have expected a much higher resolution camera but we area assured by the sales rep that this still manages to shoot sharp photos which can be printed. The main 1.9-inch display has a bright QVGA resolution which looks stunning through the glassy sapphire crystal. Think how your watch face looks and you get the style of this phone. The Meridiist also has a secondary OLED display which features  a resolution of 96 x 76 pixels – This display is unusually placed on top of the device but can be used for displaying the time (with Swiss precision) and your incoming call ID. The idea behind the concept is that you can leave your phone on your table or dashboard and see the time.

The Tag Heuer Meridiist is customisable in shop featuring different back panels – leather, steel, plastic, even alligator skin. This is a direct competitor to the similar priced Vertu which thanks to its innovative features, and heritage is a serious competitor in the luxury mobile phone market.
The good news is that the Meridiist is finally available to buy in the UK exclusively through Goldsmiths here.
This premium range of mobile phones have prices starting at £2,950 and Goldsmiths are running 24 months Interest Free Credit (for example, at 24 months based on the £2,950 phone, customers can pay £98.33 a month, with a £590 deposit).
Click here to see the full range and find out more.
---