What Buyers ought to know about Tag Heuer Aquaracer
Published: July 16th, 2011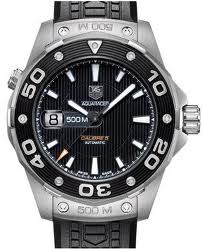 Tag Heuer Aquaracer is one of the most versatile sports watches in the market and it has recently invigorated with 300m models that kept hold of the classic good looks and modest sizing seen on the precedent Tag Heuers.
The Features of Tag Heuer Aquaracer Features
41.5 x 12 mm case
48mm Lug to lug
Tag Heuer Calibre 5 (ETA-2824-2 or Sellita SW200)
20mm Lugs
Flat sapphire crystal with AR
Aluminum unidirectional bezel
Tapered steel bracelet with SEL
300m WT
One of the best descriptions suited to Tag Heuer is its chronograph characteristics and its involvement with motor sports, which has been recognized since the moment it was introduced to the market. In accordance with the modern viewpoint Tag Heuer has offered the F1 range as well as watches built in cooperation with McLaren Automotive. To continue the goal of providing excellent watches to the market, this year at Basel, Tag Heuer revealed the MIkrotimer Flying 1000, a concept watch that comprises a mechanical chronograph with the utmost ability of measuring a resolution of 1/1000th of a second. Terrific isn't it?
Some of the great features of Tag Heuer include:
Main character in creating and distributing quality Swiss sport watches
Frequently used and endorsed by famous TV and movie personalities
Credible maker of high quality watches
Continuously provide innovative styles of watches
One of the most well known watches maker world wide
TAG Heuer Aquaracer men's stainless steel bracelet watch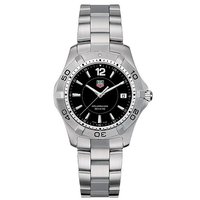 FREE UPGRADE TO NEXT DAY DELIVERYPrestige, performance and avant-garde technology: these keywords define TAG Heuer's philosophy in creating its iconic watches. Based on the design and features of the timeless 2000 series launched in 1982, this Aquaracer diving model is a fantastic-looking watch with sporty stainless steel bracelet and smart round black dial with date function and unidirectional rotating bezel. A great blend of sporting chic with a luxury feel.GBP895.00
Tag Heuer Aquaracer ladies' stainless steel bracelet watch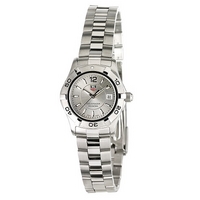 FREE UPGRADE TO NEXT DAY DELIVERYPrestige, performance and avant-garde technology: these keywords define TAG Heuer's philosophy in creating its iconic watches. A classic ladies' sports watch from Tag Heuer. Featuring a stainless steel bracelet, silver dial and date function the Aqua Racer is a stylish and sporty watch for active women. Ideal for work or play.GBP895.00
Tag Heuer Aquaracer men's two colour bracelet watch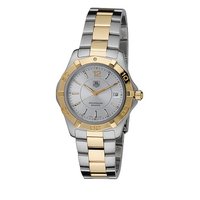 FREE UPGRADE TO NEXT DAY DELIVERYPrestige, performance and avant-garde technology: these keywords define TAG Heuer's philosophy in creating its iconic watches. Based on the design and features of the timeless 2000 series launched in 1982, this Aquaracer diving model with date function comes in stainless steel with gold-plated highlights and a silver dial. An effortless blend of elegance with a modern, sporty feel.GBP1175.00
TAG Heuer Aquaracer ladies' stainless steel diamond watch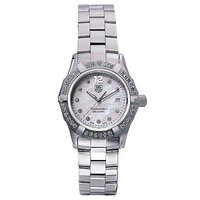 FREE UPGRADE TO NEXT DAY DELIVERYPrestige, performance and avant-garde technology: these keywords define TAG Heuer's philosophy in creating its iconic watches. Based on the design and features of TAG Heuer's classic 2000 series launched in 1982, this ladies' Aquaracer model comes in stainless steel with a white mother of pearl face and a diamond-studded bezel and dial. An effortless blend of elegance and sport.GBP2695.00
TAG Heuer ladies' diamond set bezel watch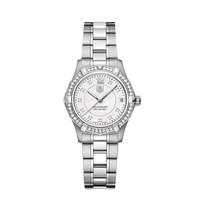 FREE UPGRADE TO NEXT DAY DELIVERYPrestige, performance and avant-garde technology: these keywords define TAG Heuer's philosophy in creating its iconic watches. This glamorous watch from TAG Heuer is for glamorous women. Featuring a stainless steel bracelet, diamond set bezel and mother of pearl dial, this is a dazzling watch for any occasion.GBP3150.00
---