Guides on Buying Designer Watches for Men
Published: February 19th, 2010
As modernization keeps going, a number of designer watches also continue to spread out all over the world. The popular watches they create spread out from one country to another. Some of these popular designers that have already made a mark in the world of designer watches include Rolex, Omega, Seiko, Oakley, Philip Stein, Police, Levis, Citizen, Calvin Klein (CK), Diesel, Casio, Swatch and  a lot more.
Buying a designer watch for your man is not an ordinary thing to get done as it involves thorough knowledge about him and the product you are going to give him. You wouldn't want to disappoint him by buying him cheap watches, would you? It is a sad fact though that several individuals do have the capability of selling replica watches with the same price as of the genuine ones. Nobody would like to get fooled by these damn imitators for sure! You wouldn't allow this thing to happen even in your imaginations.
In order for you to make certain that you buy the original designer watch go to reliable sellers that have already proven their business credibility and professionalism. If you are going to buy the product online be sure that you are with the right track. Come to mydesignerwatches.co.uk as this company sells nothing but genuine designer watches that are right for your taste, personality and budget!
If you want to buy the exact watch that your man wants, consider the tips we have for you ladies.
Consider the kind of personality he has. Is he shy, reserved or bold?
Keep in mind his styles and color preferences.
Is he a practical type or glossy?
His clothing preferences.
What would be the purpose of giving him designers watch apart from tracking time? Is your man into gadgets?
Is your man a type who likes sports especially water sports?
After considering the questions mentioned, you can then start analyzing what specific designer watch you're going to offer your man. Generally men go for muted colors. Colors of men include deep blue and brown.  Most guys always prefer dark colors when it comes to watches.
Some other things that you should consider before buying designer watch is the size of your man, his favorite color and the sports he is into. If he likes water sports, prefer giving him watch which is water proof.
If you are going to buy online do not forget to look at reviews about the product  as well the warranty given and the store's reputation.
Oasis Ladies' Stone-set White Leather Strap Watch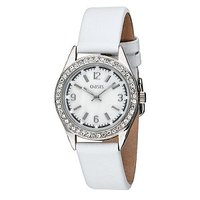 null Oasis is fabulous for providing designer looks at high street prices. Treat yourself to a gorgeous watch.GBP24.99
Guess Ladies' Cuff Watch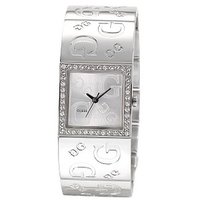 null Get some designer style with this chunky silver cuff watch, which features a fashionable square dial studded with crystals. Perfect for the modern women wanting to add a touch of feminity.GBP79.99
Guess Ladies' Stone-Set Bracelet Watch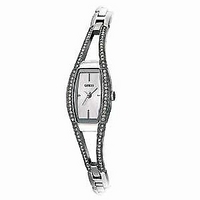 null For ultimate glamour and designer style, treat her to this gorgeous watch from Guess. Beautifully set with sparkling crystal, it is as much a piece of jewellery as it is a watch.GBP86.99
Diesel Men's Brown Leather Strap East West Watch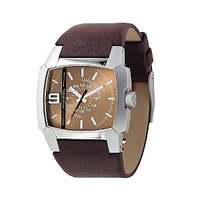 null Diesel men's watch featuring a brown leather strap and brown dial. With a subtle Diesel logo on the watch face, this is an understated and elegant watch for men to wear on all occasions. Equally at home for work or play, this is a designer watch for discerning gentlemen.GBP99.99
DKNY Ladies' Gold-plated Stone-Set Bracelet Watch.


null Look great with this stunning accessory from DKNY. The eye-catching designer watch will add glamour to your style and will leave you looking radiant at every opportunity.GBP135.00
---