How to be a Man with a Class
Published: April 11th, 2011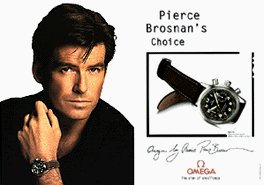 Every man wants to be every woman's dream but it takes a lot of effort and dedication as well especially these days that the majority of the woman go for guys who know how to look after and carry themselves in front of the crowd and even off the stage.
When you are at your 40's, you can be a little bit casual but it would be perfect if you stay smart looking, laid back and presentable. It has nothing to do with the physical appearance you have but with the way you carry yourself, and of course with the brand of personal stuff you use. If you want to stay on top even at your early and late 50's, it is highly recommended that you must go for styles that are not left out in the fashion world.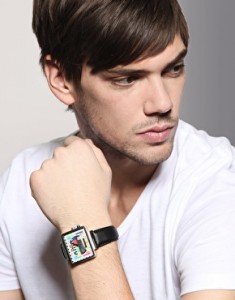 In the present era where everyone must look after himself in order to excel and to stand out, it is very important that you have the so-called, class, sophistication, and authenticity. According to recent fashion leaders, using designer watches which offer lasting durability and long term warranty, is really one of the best decisions that every man and woman could ever have.
TIMEX Ironman Triathlon 50 Lap Sleek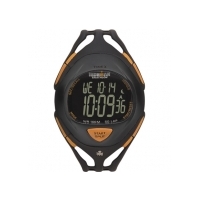 Ironman Sleek watches feature sport-timing functions perfected by 20 years of innovation. The stylish aerodynamic designs leave no doubt about the capabilities. Today's sleek watches include 100-hour chronograph, interval repetition counter and display flipping, multiple workout storage with best lap, average lap total segment time and date, settable timers (countdown/stopwatch, countdown/repeat, countdown/ auto start chronograph). This watch has an extremely useful feature, the digits are bright white and the watches face black, ideal for those runners and other athletes who mainly exercise in very little or no daylight; this feature makes the watch unique in its market. Timex uses technology introduced to the industry in its quest to bring practical technology to the sports industry. The Sleek collection is the culmination of nearly two decades of technological and aesthetic refinement to the Ironman line of watches. With a combination of advanced features, new and easier to read displays with oversize digits and bold, aerodynamic designs, the Sleek line stands out as the evolutionary leader among performance sport wrist instruments. The Timex advanced watch has a selection of integrated polyurethane and infinitely adjustable Fast Wrap straps. The Ironman Triathlon is a favourite of athletes for recording lap times. When using the chronograph stopwatch, the press of a button will mark an interval of time. To time how long it takes to run a leg of a marathon, swim a length of a pool, or bike to the next telephone pole, by recording a ""lap. "" The chronograph continues to run, allowing the mark and instant view of up to 50 laps that can be reviewed at the end of each exercise session. Product Features & Specifications*INDIGLO® night-light with NIGHT-MODE® feature*100-hour chronograph with either lap or split option in large digits*50-lap memory recall*On-the-fly recall of lap or split option*Bottom pusher for easy lap and split op£69.99
TIMEX Ironman 50 Lap Sleek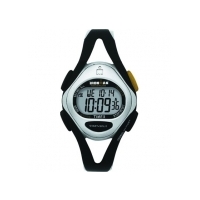 Timex Ironman Triathlon launch a range of models that have rugged looks and features that are aimed squarely at the athlete. Sports watches with 50 lap memory recall enabled by one top pusher for extremely easy lap and split recording and FLIX® technology to facilitate hands free use of INDIGLO night-light. As your feet meet the asphalt on a pre-dawn run, a quick flick of the wrist activates the Indiglo nightlight® on your new Ironman Triathlon 100 Lap FLIX watch. Just like that, your watch display is brightly illuminated for a clear view of your time. Look no hands no buttons to push. It's effortless! Ironman Sleek watches feature sport-timing functions perfected by 20 years of innovation. Features & SpecificationsFLIX® Technology: hands free INDIGLO® nightlight100-hour chronograph with either lap or split option in large digits50-lap memory recallTop pusher for easy lap and split optionUnused modes can be turned on/offOccasion mode2 mode countdown timer3 alarms3 time zonesAll-day white reflector displayForward and backward settingBuilt in setting remindersWater-resistant 100m£54.99
TIMEX Midsize Ironman Triathlon 50 Lap Watch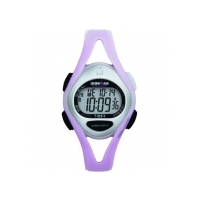 Ironman Sleek watches feature sport-timing functions perfected by 20 years of innovation. The stylish aerodynamic designs leave no doubt about the capabilities. Today's sleek watches include 100-hour chronograph, interval repetition counter and display flipping, multiple workout storage with best lap, average lap total segment time and date, settable timers (countdown/stopwatch,countdown/repeat, countdown/ auto start chronograph).Timex uses technology introduced to the industry in its quest to bring practical technology to the sports industry. The Sleek collection is the culmination of nearly two decades of technological and aesthetic refinement to the Ironman line of watches. With a combination of advanced features, new and easier to read displays with oversize digits and bold, aerodynamic designs, the Sleek line stands out as the evolutionary leader among performance sport wrist instruments.The Timex advanced watch has a selection of integrated polyurethane and infinitely adjustable Fast Wrap straps. The Ironman Triathlon is a favourite of athletes for recording lap times. When using the chronograph stopwatch, the press of a button will mark an interval of time. To time how long it takes to run a leg of a marathon, swim a length of a pool, or bike to the next telephone pole, by recording a "lap." The chronograph continues to run, allowing the mark and instant view of up to 50 laps that can be reviewed at the end of each exercise session.Features & Specifications*INDIGLO® night-light with NIGHT-MODE® feature *100-hour chronograph with either lap or split option in large digits *50-lap on-the-fly memory recall *Bottom pusher for easy lap and split option *Syncro timer maintains total activity time and overall running time *Multiple workout storage with best lap, average lap and total segment time with date *2 linked timers settable up to 24-hours with 3 modes *Interval repetition counter *3 alarms *2nd time zone *All-day white reflector display *St£54.99
TIMEX Midsize Ironman Triathlon 50 Lap Watch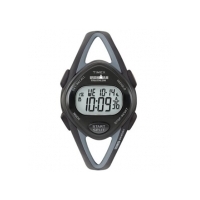 Ironman Sleek watches feature sport-timing functions perfected by 20 years of innovation. The stylish aerodynamic designs leave no doubt about the capabilities. Today's sleek watches include 100-hour chronograph, interval repetition counter and display flipping, multiple workout storage with best lap, average lap total segment time and date, settable timers (countdown/stopwatch,countdown/repeat, countdown/ auto start chronograph). Timex uses technology introduced to the industry in its quest to bring practical technology to the sports industry. The Sleek collection is the culmination of nearly two decades of technological and aesthetic refinement to the Ironman line of watches. With a combination of advanced features, new and easier to read displays with oversize digits and bold, aerodynamic designs, the Sleek line stands out as the evolutionary leader among performance sport wrist instruments. The Timex advanced watch has a selection of integrated polyurethane and infinitely adjustable Fast Wrap straps. The Ironman Triathlon is a favourite of athletes for recording lap times. When using the chronograph stopwatch, the press of a button will mark an interval of time. To time how long it takes to run a leg of a marathon, swim a length of a pool, or bike to the next telephone pole, by recording a ""lap. "" The chronograph continues to run, allowing the mark and instant view of up to 50 laps that can be reviewed at the end of each exercise session. Features & Specifications*INDIGLO® night-light with NIGHT-MODE® feature *100-hour chronograph with either lap or split option in large digits *50-lap on-the-fly memory recall *Bottom pusher for easy lap and split option *Syncro timer maintains total activity time and overall running time *Multiple workout storage with best lap, average lap and total segment time with date *2 linked timers settable up to 24-hours with 3 modes*Interval repetition counter *3 alarms *2nd time zone *All-day whi£61.74
Timex T59201 Ironman Midsize 50 Lap Sleek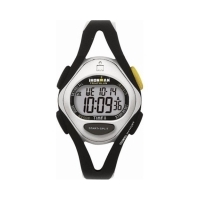 Ironman Sleek watches feature sport-timing functions perfected by 20 years of innovation. From the gym to the street, Ironman Sleek precision sports watches are designed for the professional athlete, casual runner and everyone in between.£44.99
---