Edox Watches to be featured in Spiderman 4
Published: January 17th, 2011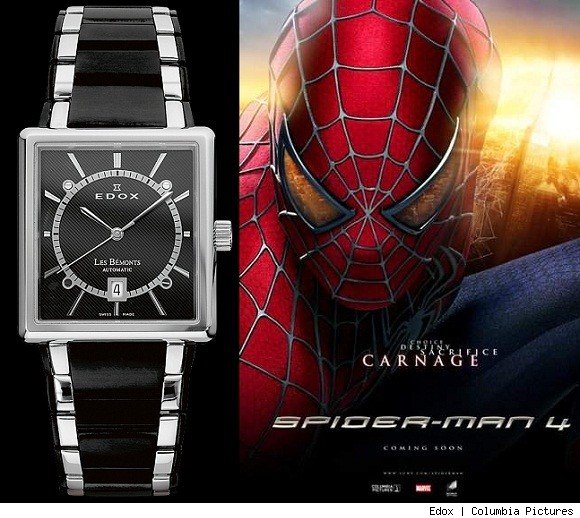 Swiss Edox watches will be featured in the 4th movie of Spiderman which the character will be played by Andre Garfield. Edox gladly stated that each cast of the movie will be able to choose an Edox timepiece to wear during the shooting of the film.
Edox was really surprise upon hearing this great news as it has been proven that Richemont group are known for their popularity in paying big money for product placements in movies like Ironman 2 and Wall Street. Since Edox is not a very popular and not even the largest brand in the world of designer watches, its founder was so amazed that his design will be inclusive in one of the most awaited movie on 2012.
As announced the newer Edox Les Beomts Ultra Slim will be one of the watches to be seen on the movie. To find out more make sure to get updates about Edox watches via magazines and internet.
Similar to some other watches Edox also features the following:
High quality and lasting watch cases
Durable and comfortable leather and rubber straps
Bracelets which processed and finished by master jeweller
Crystals
5-minute repeater
Water resistance
Dials
Activate self winding watch
Assembling – carefully assembled which totally offers comfort to every users wrist

Edox Grand Ocean Automatic Gents Watch

Edox Grand Ocean Gents Watch, Silver Dial with Day and Date Display, Tachymeter, 45mm Stainless Steel Case, Black Rubber Case, Anti Reflective Scratch Resistant Sapphire Crystal, Automatic Movement, Water Resistant upto 100 Metres£1695.00

Edox Grand Ocean Automatic Gents Watch

Edox Grand Ocean Gents Watch, Blue Dial with Skeleton Display, 41mm Stainless Steel and Blue PVD Case, Blue Leather Strap, Skeleton Case Back, Anti Reflective Scratch Resistant Sapphire Crystal, Automatic Movement, Water Resistant upto 100 Metres£1585.00

Edox Class 1 Gents Watch

Edox Class 1 Gents Watch, Black Dial with Day and Date Display, Tachymeter, Ceramic Rotating Bezel, 45mm Stainless Steel Case, Black Rubber Strap, Anti Reflective Scratch Resistant Sapphire Crystal, Quartz Movement, Water Resistant upto 300 Metres£1095.00

Edox Class 1 Chronograph Gents Watch

Edox Class 1 Gents Watch, Black Chronograph Dial with Date Window, Tachymeter, Stainless Steel and PVD Case, Black Rubber Strap, Anti Reflective Scratch Resistant Sapphire Crystal, Quartz Movement£945.00

Edox Class 1 Chronograph Gents Watch

Edox Class 1 Gents Watch, Silver Chronograph Dial with Date Window, Tachymeter, Stainless Steel Case and Bracelet, Anti Reflective Scratch Resistant Sapphire Crystal, Quartz Movement£945.00
---